Barron's Test Preperation

Item #:

BE7021

Interest Level:

Gr. 9–Adult

Reading Level:

Gr. 9–Adult

Components:

Workbooks, CD-ROM, and Flash Cards




Description:
d Math
Advice for students aiming for National Merit Scholarships
Much more

Students will learn strategies that can take them from a good score to a great score, and find everything they need to succeed on this test.

Book can be purchased with an optional CD-ROM presenting two additional practice tests with automatic scoring.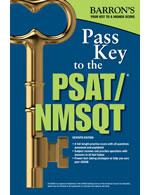 Pass Key to the PSAT/NMSQT: This shorter version of the full-size Barron's PSAT/NMSQT prepares high school students for the preliminary version of the SAT college entrance test. Helpful features include:
Two full-length practice tests with all questions answered and explained
Subject reviews covering critical reading, math, and writing skills
Additional practice questions with answers in all subjects
Students are briefed on vocabulary-in-context, given tips on how to tackle reading comprehension questions, introduced to non multiple-choice math questions, and offered advice on how and when to use a calculator in dealing with both multiple-choice and grid-in math questions.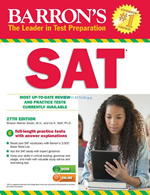 Barron s NEW SAT 28th Edition Sharon Weiner Green, M.A. and Ira Wolf, Ph.D. Brian W. Stewart, M.Ed., Contributing Author Changes are coming to the SAT and this completely revised edition will help students prepare and succeed on the newly designed test. This guide reflects all of the new question types that will appear on the new SAT, scheduled to be administered in Spring 2016.

It contains:

A diagnostic test and four full-length practice tests with all questions answered and explained
An overview of the SAT, an explanation of the test s scoring method, and study advice
Test-taking tactics for the exam as a whole, and special strategies for each part of the test
Subject reviews covering all of the sections on the new test
Detailed instruction in writing the SAT essay
An optional CD-ROM that features additional full-length practice exams with automatic scoring and fully explained answers
The manual can be purchased alone or with a CD-ROM that presents two additional practice tests with explained answers and automatic scoring.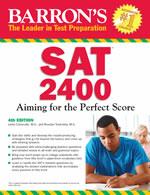 Barron s SAT 1600 Revised for the New SAT Linda Carnevale, M.A. and Roselyn Teukolsky, M.S. Students who are focusing on getting an exceptionally high or even perfect score on the SAT will want to get their hands on this guide. Barron s SAT 1600 is based on the new Spring 2016 SAT test. It takes students beyond standard test prep exercises, reviewing the rigorous coursework that serves as a foundation for the new kinds of questions, and presenting novel and effective strategies for tackling the SAT s hardest questions.


The book s major features include:
Extra practice and review in all math topics
Detailed discussion and examples of the new types of math problems
Upper-level vocabulary lists to bring students word power up to college standards
Comprehensive answer explanations for every question in the book
A complete SAT test
Many test takers have told Barron s about their satisfaction with this manual s earlier editions, finding helpful test-taking tips and welcoming the book s special focus on the SAT s most difficult questions. This timely new edition is now better than ever!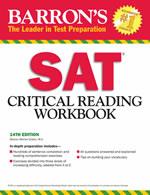 Barron's SAT Critical Reading Workbook: The fourteenth edition concentrates on the SAT s Critical Reading section with exercises reflecting both SAT question types: sentence completion and reading comprehension.
Exercises are divided according to three levels of increasing difficulty, labeled from A to C
Features a helpful self-assessment test and three full-length Critical Reading practice tests
All questions are answered and explained
Students who can answer all level C questions are ready to excel on the actual exam
The workbook also presents test-taking tips and an extensive vocabulary review.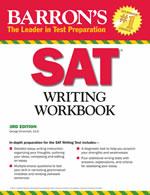 This revised edition of Barron s SAT Writing Workbook prepares students for both parts of the two-part Writing Test.It includes
Advice on organizing ideas for an essay
Instruction in drafting and editing an essay
Guidance in completing the essay within the SAT s time limitation
Multiple-choice questions with answers that test students skills in correcting grammatical mistakes and improving poorly written sentences
This workbook also offers five writing tests with complete answers, explanations,a list of and criteria for analyzing and scoring SAT written essays.
Barron s NEW SAT Flash Cards 3rd Edition Sharon Weiner Green, M.A. and Ira K. Wolf, Ph.D. Practice and review questions for all sections of the new 2016 SAT are presented on this set of 500 revised and updated flash cards. The math cards include 75 important math facts and 25 valuable strategies that students need to know in order to answer SAT math questions successfully, as well as 100 sample SAT problems in multiple formats. The grammar cards present multiple-choice questions in proper sentence construction. The vocabulary cards present two words per card with definitions on the reverse side a total of 200 new words for test takers to learn. These boxed cards are designed with a punch-hole in one corner. The hole can accommodate an enclosed metal key-ring-style card holder that students can use to customize study on the go. Boxed Set, 500 cards, 4 7/8" x 5" x 2 7/8"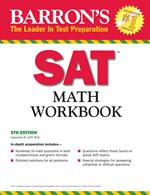 Barron s Math Workbook for the NEW SAT 6th Edition Lawrence S. Leff, M.S. Here is an intensive preparation for the SAT s all-important Math section, and a valuable learning tool for college-bound students who need extra help and want to raise their scores. This completely revised edition reflects all of the new questions and question types that will appear on the new SAT, scheduled to be administered in Spring 2016.

Students will discover:

Hundreds of revised math questions with answer explanations
Math strategies to help test-takers approach and correctly answer all of the question types on the SAT
All questions answered and explained.
Barron's SAT Vocabulary Flash Cards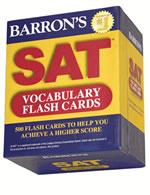 2nd Edition: is a test prep tool that presents 500 SAT high-frequency words, selected because they have appeared as key words in recent SAT reading passages and critical reading and sentence completion questions. Cards are alphabetically arranged in the box, with an extra place-marker card that students can use to gauge their word-learning progress. This vocabulary building flash card set enables SAT test takers to review words they might already know, as well as to master unfamiliar words they are likely to encounter both on the SAT and in their college courses. The front of each card lists the target word along with a guide to its pronunciation and its part of speech. The card s reverse side presents the word s definition, uses it in a sentence, and lists synonyms. Students who master all 500 words will find enclosed instructions for making their own flash cards and continuing to expand their vocabularies. Flash cards in this set each have a small punch-hole in the one corner. It accommodates an enclosed metal ring that students can use to arrange select cards for study on the go. Boxed Set 500 Cards, 4" x 4 3/4" x 2 7/8"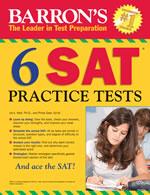 Barron s 6 Practice Tests for the NEW SAT 2nd Edition Ira K. Wolf, Ph.D. and Philip Geer, Ed.M.Stephen Reiss, Contributing Author College-bound students will find intensive test-taking practice for the all-important SAT in this brand-new book.

They ll find everything they need to ace the test, including:

Six full-length practice exams similar in length, structure, question type, and degree of difficulty to the new 2016 SAT
All questions answered and explained
Self-appraisal information for scoring the SAT essay question
Test-taking tips and strategies to help students maximize their scores.

This book offers excellent SAT test preparation when used alone, and also makes a fine companion volume for test takers who purchase

Barron s SAT with CD-ROM

.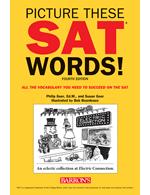 Picture These SAT Words!
All The Vocabulary You Need to Succeed on the SAT



Get your highest score on the SAT Reading and Writing and Language Tests with help from this collection of humorous cartoons that focus on words and their meanings. Learn all the words you must know and ace the test! You'll find:

300 cartoons with visual puns that serve as memory aids related to each word's meaning
Cartoons that come with a target word, its definition and pronunciation, and sample sentences that show how the word is used
Sentence completion exercises following every set of 12 cartoons to reinforce retention
New to this edition is a section called Meet the Stars!, a bonus unit that teaches the most frequently occurring words on recent SAT tests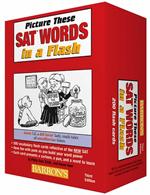 Picture These SAT Words in a Flash 3rd Edition: This set of vocabulary-building flash cards present cartoon illustrations showing visual puns with sample sentences and verbal mnemonics with definitions given on the reverse side of each card. Words and definitions are those that have appeared most frequently on recent SAT college entrance exams. The cartoons and vocabulary have been adapted from Philip and Susan Geer s book Picture These SAT Words!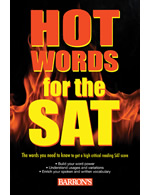 Hot Words for the SAT: Updated and expanded to reflect the vocabulary and format of the most recent SATs Critical Reading sections, Hot Words for the SAT presents and defines more than 365 words that appear most frequently on SAT exams. These are words that test takers need to know in order to achieve a high Critical Reading score. The book is divided into 37 lessons, each consisting of dozens of illustrative sentences and a thematic word cluster. Each cluster contains words having similar meanings or words that apply to similar circumstances. Also included are new pronunciation keys for each word, memory tips, expanded review exercises following every five lessons, and an alphabetical word index. College-bound students who successfully complete the book s exercises and master these words will expand their lifelong vocabulary, enrich their essay writing, and improve their chance for acceptance at the colleges of their choice.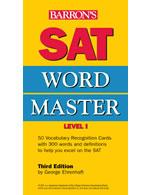 SAT Wordmaster: Revised and updated with new words that reflect vocabulary requirements for success in the current SAT s Critical Reading and Writing sections, this card pack presents 300 words on 50 vocabulary recognition cards plus a handy six-card index. The card case is designed with a viewing window. Users slide cards past the window, first to see the word and its part of speech; second, to see the word s definition; third, to see it used in an example sentence; and fourth, to see and learn other words with related meanings. The words presented are among those most frequently found in recent SAT exams. Level I presents 300 basic words that every college-bound student must master. Level II presents 300 advanced words for students to learn after they are comfortable with the Level I vocabulary selections. Students who master all 600 words can approach the verbal sections of the SAT and all other college-entrance exams with confidence.
| | | | |
| --- | --- | --- | --- |
| Item# | Products | | Price |
| BE7021WB | Barron's PSAT/NMSQT | | $ 14.99 |
| BE7022WB | Barron's PSAT/NMSQT with CD-ROM | | $ 29.99 |
| BE7026WB | Barron's SAT 1600 | | $ 24.99 |
| BE7028WB | Barron's Critical Reading WorkBook for the NEW SAT | | $ 14.99 |
| BE7029WB | Barron's SAT Writing Workbook | | $ 16.99 |
| BE7030WB | Barron's SAT Math WorkBook | | $ 16.99 |
| BE7033WB | Barron's 6 SAT Practice Tests | | $ 16.99 |
| BE7034WB | Pass Key to the SAT | | $ 10.99 |
| BE7035WB | Picture These SAT Words! | | $ 14.99 |
| BE7036WB | Picture These SAT Words in a Flash | | $ 16.99 |
| BE7037WB | Hot Words for the SAT | | $ 9.99 |
| BE7038WB | SAT Wordmaster, Level I | | $ 9.99 |